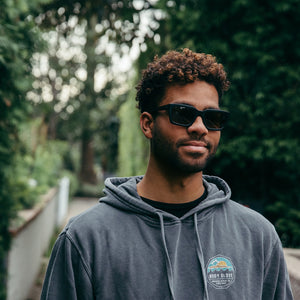 We generally keep enough components on hand, per style, to get us through the generous life cycle we've allowed for a style. If you're OTIS style is now part of ourCLASSICS collectionit means they're discontinued and we don't have the components necessary for their repair. 
While the store may want to provide some premium customer service also, you also have the option of dealing with us directly. If you'd prefer to deal with OTIS direct, please follow the steps on our support page.
Yes. Carefully package up your OTIS and post them off to the address on ourSupport page. We'd be stoked to have your OTIS back in your hands as soon as possible.
We unfortunately can't. Our mineral glass polarised lenses are manufactured with extreme precision. OTIS polarised mineral glass lenses go through a detailed, staged process of fine grinding and polishing to produce two identical lenses. They are then fused together encasing the OTIS polarised filter. Simply put, a UV400 lens wouldn't fit into a polarised frame, and vice versa.
Our Lifetime Warranty will guarantee your shades from any defects that are the direct result of poor workmanship or faulty materials. We stand by the premium materials we've chosen 100% and if a legitimate warranty is presented to us, we'll do everything we possibly can to get the defective pair of shades out of your hands and replaced immediately.
Scratched or broken lenses are not manufacturing defects.
Yes, if it's necessary. Our technicians will gladly assess your OTIS shades to determine whether or not the stainless steel hinge has been threaded (and causing the screw to loosen) or it's just a case of the screw and hinge needing a service. An alternative to your OTIS shades being with our Technicians for a couple of weeks is to cruise down to your local optometrist. Most of the time they'll happily tighten your hinge screw for a smile and or a small charge. Either way, remember that a screw is a moving component and it's bound to show small signs of wear, over time.
No. There's enough plastic.
We've never claimed our lenses to be scratch PROOF. What we do claim though, is that OTIS lenses are made from the most scratch RESISTANT and optically correct lens material in the world - hands down.
These sunglasses meet or exceed the following standards:
US Standard ANSIZ80.3 (2018)
Australian and New Zealand Standard AS/NZS 1067, 1, 2016 & AS/NZ 1067, 2, 2016
European Standard ISO 1:2013 & ISO 12311:2013
All Otis sunglasses bear the CE mark which demonstrates that our products meet the requirement of the European directive Regulation (EU) 2016/425
89/686 EEC and meet the requirements of prEN 1836:1996
For general inquiries, please contact cs_otis@leisurecollective.com.au