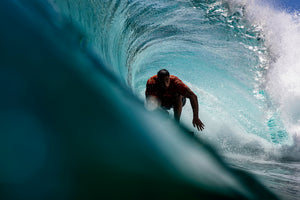 Imogen Caldwell
When it comes to muses, there's not many people who inspire us more than surf gypsy, adventurer, mum, and model Imogen Caldwell. From small-town roots in Western Australia, she's the perfect mix of down-to-earth meets free spirit, living the life OTIS stands for. 
Imogen also has a keen eye for style so when it came to people to create an exclusive capsule with, she was top of the list.
Jamie Thomas
Jamie Thomas is an iconic skateboarder known for his fearless style and relentless drive for perfection. As core as it gets, Jamie created Zero Skateboards and Fallen Footwear. Known in the skate industry as The Chief, he walks the walk, still throwing down wild transitions whenever he can. 
Fueled by passion and intentionality, Jamie has now worked with us to create the Overkill line - a timeless collection of OTIS classics with Jamie's signature style woven in.
Hunter Jones
Surf stunt double, WSL personality, beacon of positive change in the surfing community - Hunter Jones has a lot of feathers in his cap. The LA surfer, creative and filmmaker travels, makes creative content, and spreads good vibes wherever he goes. An integral and much-loved member of the OTIS family.
For a look at life through Hunter's lens, check out his Instagram page here.
Jay Davies
Jay Davies looks at waves a little differently than most. Where some see unmakeable, he sees a challenge. Where some see too steep, he sees a ramp. Where some think I wish, he thinks I will… 
Jay is a mix of casual style and reckless abandon—humble on land yet a total beast in the ocean.
Corina Rose
Meet Corina Rose - an OTIS muse, a style maven and a woman of many talents. Corina is an artist, surfer, and writer who is guided by her passion for the natural world around her. Corina cherishes a simple existence, conscious buying choices, and a life centred around the ocean, making her an ideal ambassador for OTIS. To check out Corina's latest footloose adventures, follow her on Instagram.
Kentaro Yoshida
Bold character, subtle humour, more than meets the eye. These things describe both Kentaro Yoshida and the art he creates. His work is rooted in the beach life he lives in Sydney, is influenced by his Japanese upbringing, yet manifests in a unique identity all of its own. As someone who looks at life differently, Kenny constantly inspires us to do the same. Check out Kentaro's take on the world on his Instagram.
Eric Geiselman
Air lord and fishing fiend - Eric Geiselman lives the life aquatic better than most. A pioneer of technical aerial surfing, he continues to push the limits of what's possible on a surfboard both in the ocean and in wave pools. 
Follow Eric's exploits and innovations over at his Instagram here.
Greg Long
Environmentalist, activist, absolute madman in the water. Greg Long is a big wave legend with an even bigger heart. He travels the world chasing swells and raising awareness for planetary causes, both local and global. 
For the latest on what Greg is up to, follow him on Instagram here.