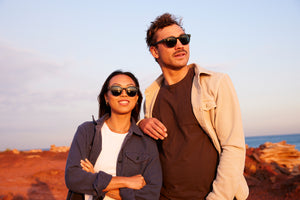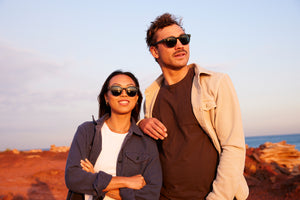 Where water and earth collide.
OTIS and Outerknown share a goal to close the loop with sustainable style you can be proud to wear. These collaboration frames take extra inspiration from where water meets land, contrasting their textures, form and color. Designed with this vibrant duality in mind, each style has been created with certified biodegradable Eco-Acetate and endlessly recyclable mineral glass lenses, paying further respect to the ecosystems that inspire us. 
Look beyond what you know. See the world at its most interesting. Enjoy the unique interlay where water and earth come together.  
THE LATEST COLLECTION
Adventure is born where water meets land and environments shift and blend, contrasting their textures, form and colour.
This latest OTIS x Outerknown Collaboration is inspired by this very interplay. The red dirt of the Kimberley colliding with the turquoise of the Indian Ocean. Rocky inland outcrops cut by snaking rivers. Desert sands skirted by crystal salt lakes. 
MADE LESS. MADE BETTER. MADE SMARTER
Available in limited quantities, every style in the collection comes with signature accents to mark the special nature of the release, a protective carry case, plastic-free packaging and a recycled cloth wrap to keep your glasses (and the planet) that little bit cleaner.
Recyclable. Reusable. Plastic free.