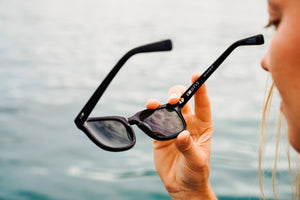 WHICH FRAME SUITS YOUR FACE?
The key to choosing eyewear is finding a frame that compliments your face shape. Before you start shopping around for different colours and frame styles you need to get an idea for what your face shape is. Use the guide below to first identify your facial features:
HEART FACE
A heart-shaped face has a wide top third and narrow bottom third. Being the most versatile of face shapes, go for styles that are slightly bottom-heavy and slightly wider than your forehead.
SQUARE FACE
You have more distance between your eyebrows, well defined cheekbones and prominent jaw lines. Choose frames wider than they are tall to help slim down the proportions of your face. Avoid frames that are rectangle or small.
OVAL FACE
An oval face has cheekbones being the widest part of the face. Maintain the natural balance of your face and look for frames that are as wide or wider than the broadest part of your face.
ROUND FACE
Your face is circular with soft curves. Length and width are at similar proportions. Opt for angular frames to provide contrast and balance to our softer curves and features. This includes square frames, rectangular frames, cat eye frames and aviators.