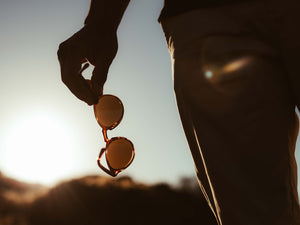 Need OTIS Replacement Lenses?
All OTIS sunglasses are made with highly scratch-resistant mineral glass lenses. However, that doesn't mean they'll remain totally scratch-free for life. 
If your glasses have undergone some serious damage you might need to swap things over. We do that for less than a brand new pair of OTIS sunglasses. As direct sunglass lens replacement often damages the integrity of the frames, we swap the entire piece of eyewear for you at a reduced cost. Standard lens frames are just $110. Polarised lens frames are just $170. Our top tier LIT Lens frames are $200.
All you need to do to get your replacement sunglasses lenses and frames sorted is follow the steps on the page above and you're golden. Same if the unthinkable has happened and you've sat on your pair snapping the arms, or your pooch has ripped into your OTIS frames as an afternoon snack. 
To find out whether your lens replacement is covered under warranty, read below. Otherwise, browse our full eyewear range for your best replacement pair.
Pricing varies depending on the lens category and includes an entirely new set of glasses + return express postage. To protect the integrity of the frame, we do not exchange lenses.
Standard - $110.00
Polarised - $170.00
L.I.T Polarised - $200.00    
STEP 1
Complete and submit the Repair Form below. Once completed, a copy of your completed form will be emailed directly to you, for you to print out and include in your return parcel.
STEP 2
Package up your broken glasses along with your printed form and post to the address below. Shattered / broken glass is not required to be posted.
STEP 3
Drop your parcel at your nearest post office. Remember to add tracking if you wish to check your parcels progress, OTIS is not responsible for items lost in transit.
Does OTIS's Lifetime Warranty Cover Replacement Sunglass Lenses?
OTIS's Lifetime Warranty will guarantee your sunglasses against any defects that are the direct result of poor workmanship or faulty materials. We 100% back the premium materials we've chosen and if a legitimate warranty is presented to us, we'll do everything we possibly can to get the defective pair of glasses replaced right away. 
However, this warranty doesn't cover general wear and tear including lens scratching from sand, keys, or general usage over the life of the sunglasses. If you need replacement sunglasses lenses, you'll need to fill in a sunglasses repair form using the process above. If you believe you have a genuine warranty claim, please head to our claim form page.
If you're really not too sure if your sunglasses are damaged because of a defect, or from general use, please reach out to our customer service team to explain the situation . We'll be able to help from there.
ADDRESS
The Leisure Collective
11 Clark St
Dunsborough 6218, Western Australia
Please Note: If we no longer stock the style you have sent in for replacement we will contact you to see which style from our current range you would like as a replacement.
We endeavour to process all returns within 48 hours of arrival and we will contact you within this time if we have any queries with your return.  All replacement glasses are sent via express and should arrive to you within 2-5 working days of dispatch, once dispatched you will be emailed your return tracking information.
Why You'll Rarely Need OTIS Replacement Lenses
OTIS mineral glass lenses are 12x more scratch-resistant than regular plastic lenses. That means you're much less likely to need sunglasses lens replacements if you choose OTIS frames. We also thermally harden our lenses to make them even stronger, grind them to precision to make them 100% optically correct, and place them in frames also designed to stand the test of time. 
Even better, mineral glass is made from natural sources and is endlessly recyclable, making it a much more sustainable option that most other sunglass lens materials on the market. For some more insight into mineral glass and why it makes the best sunglass lenses.