OTIS X KENTARO YOSHIDA
A collection brought to life through the seamless fusion of Kentaro's visionary talent and OTIS's devoted expertise. This limited edition collection is inspired by a unique design from our favourite Japanese artist and longtime OTIS ambassador.
A better way to make for brighter days
We wanted to take our sustainability credentials a step further this year. Every style from our latest range is made with handcrafted Eco-Acetate that is certified biodegradable at its end of life. This is on top of OTIS's industry-leading mineral glass lenses, which are endlessly recyclable and highly scratch resistant.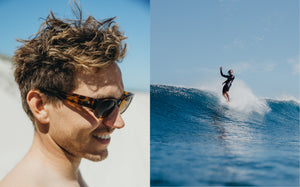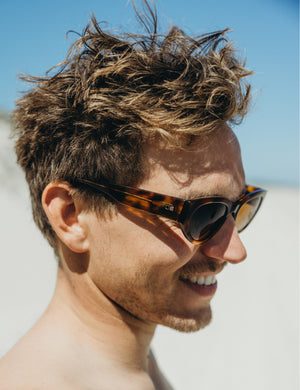 New range, timeless styles
OTIS's latest collection is inspired by adventure, seeing the world, experiencing the new and dreaming of brighter days. Crafted with utmost care and quality, these frames are a timeless investment, made to stand the test of any adventure.
"After a couple of great years working with OTIS on unique colours and detailing for my ongoing collection, this felt like the perfect time to take things to another level again. That's the best thing about having quality partners you trust. You go outside what you'd try alone, and lift as a result."
Jamie Thomas
FOR THE FIRST TIME...
OMAR IN LIT
For the first time, OTIS's ever popular OMAR frame is coming into our premium LIT Lens as well. This offers an elevated visual experience in a retro look that's a true crowd pleaser. 
FEATURED FRAME
DIVIDE
Step from the style house onto the sand. Pursuit blends catwalk grace with a relaxed coastal mood to create something that's at once stylish and timeless. Made with certified biodegradable Eco-Acetate, the large frame adds extra sun coverage with assured self-expression.
Discover OTIS Sunglasses in Australia
OTIS sunglasses are 12x more scratch resistant than regular plastic options. All of our lenses are made from 100% thermally-hardened mineral glass - widely regarded as the best sunglasses lens material on the planet. Just watch this scratch test to see the difference.
Mineral glass is also endlessly recyclable and non-toxic, making it a superior choice for the environment as well. Add in our EcoAcetate frame options, which are certified biodegradable at their end of life, and you have high-quality sunglasses that bridge the gap between style, durability, sustainability and technical excellence.
Born on the rugged coast of Western Australia, sunshine and salt is part of OTIS Eyewear's DNA. We exist to create style with substance that stands up to the elements, enabling you to get outside, do more, see more and live an eclectic lifestyle.
That means we only make premium, high-quality glass lens sunglasses in Australia.
OTIS Eyewear. Reframe the future.
How Do You Make Scratch-Resistant Sunglasses?
All OTIS Sunglasses start with being designed by the team here in our head office in Western Australia. While we're locally minded, we're also globally inspired by the latest fashion trends, advancements in sustainability, and discoveries in materials like handmade acetate. We then source mineral glass sunglasses lenses, created using natural materials like sand and soda ash.
Once the glass is made, it's thermally hardened to enhance its already incredible natural scratch resistance and durability. Finally, those glass sunglasses lenses are hand ground, polished and precision tested for clarity control, making them 100% optically correct.
At OTIS, all of our high-quality sunglasses use mineral glass at their core. Every regular, polarised, and LIT Lens (which enhances contrast for more vibrant vision), make better scratch-resistant sunglasses.
Over the years, we've also partnered with brand ambassadors like iconic skateboarder Jamie Thomas, activist Greg Long, and surf gypsy Imogen Caldwell – each providing their own signature style to our line-up of premium sunglasses online.
To view the entire range shop our men's and women's sunglasses today.
Free Shipping For Sunglasses in Australia
It's never been easier to shop for OTIS sunglasses in Australia. Our handy fit guide helps you pick the best styles for your face shape, there's FREE SHIPPING for all Australian sunglasses orders, and there's the convenience of Afterpay.
If you need any help finding the best high-quality glasses for you, give our team a call on (08) 9756 7311 or email us at cs_otis@leisurecollective.com.au.
Or, to head into your closest local OTIS Eyewear retailer and try on some frames for yourself click here.