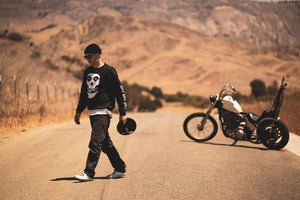 Jamie Thomas is an iconic skateboarder known for his fearless style and relentless drive for perfection. Fueled by passion and integrity, this OVERKILL line is a collaborative collection of timeless classics by OTIS with Jamie's signature style.
SUMMER OF 67
Retro-inspired, stealth injected. An iconic frame etched into counterculture from the 60s and still packs a punch today.
SHOP NOW
OMAR
A crowd-favorite on overdrive. This OTIS Bestseller just got even better with Jamie Thomas's signature touch.
SHOP NOW
PANORAMA
Bold, black and badass. A standout frame that covers all angles - from jeans and a tee, to suit, tie and sneakers.
SHOP NOW
JAMIE THOMAS x OTIS SUNGLASSES
Iconic skateboarder Jamie Thomas is revered for his fearless style and relentless drive. Fueled by passion and integrity, this OVERKILL line is a collaborative collection of timeless classics by OTIS with Jamie's signature style.
Embrace the fearless spirit of skateboarding legend Jamie Thomas with this exclusive range of sunglasses. A unique collection, bringing together the heart of skateboarding and the sophistication of premium eyewear.
Jamie Thomas: The Iconic Skateboarder
Jamie Thomas, is more than just a professional skateboarder, he is a master of his craft, as well as the the founder of Zero Skateboards and Fallen Footwear. An entrepreneur who has left an indelible mark on the industry.
His relentless pursuit of perfection and fearless style have become his signature traits, both of which are captured in this collection.
The Overkill Collection: Bold and Timeless
The Jamie Thomas x OTIS collection is more than just a style statement. Each pair is designed with functionality, durability and classic style in mind.
The Overkill line reflects Jamie's iconic style. Each pair from this collection is bold, timeless, and perfect for those who dare to be different.
In these frames, you're not just wearing a pair of glasses – you're carrying a piece of skateboarding history. Here are some key features:
Mineral Glass Lenses: Created from natural elements like sand and soda ash, our lenses are endlessly recyclable and harmless to humans and animals. They offer high resistance to scratching and lack distortion, making them the world's best lens material.
4 Base Lens Curve: Our lenses possess a 4 base lens curve, ensuring a higher front curvature for a comfortable fit.
100% UVA/UVB Protection: All our lenses block harmful UVA, UVB and HEV light, providing superior protection against solar damage, reducing eye fatigue, and maintaining true colour and depth perception.
Acetate Frames: Our frames are made with premium quality acetate, derived from renewable resources like wood pulp and cotton fibre, ensuring durability. The colour is embedded within the product, retaining brightness and preventing peeling and fading.
Visottica Hinges with Stainless Steel Screws: Our eyewear features Visottica hinges with stainless steel screws, ensuring a secure and comfortable fit.
The OMAR: A New Classic
Another feature product from our collaboration with Jamie Thomas is the OMAR, an OTIS crowd favourite that reflects a perfect blend of style and functionality.
With Mineral Glass Lenses, 4 base lens curve, 100% UVA/UVB protection, acetate frames, and Visottica hinges, the OMAR is a new classic in the realm of eyewear.
Explore the Collection Today
Explore the world through the eyes of a skateboarding legend with Jamie Thomas OTIS sunglasses. Whether you're after a bold statement or a more classic look, find your perfect pair today.
Enjoy free shipping on all Australian orders and the flexibility of shopping now with Afterpay. Experience the fearless style of Jamie Thomas and the quality of OTIS eyewear. It's time to make your mark.
EXPLORE THE LIMITED EDITION OVERKILL COLLECTION
Follow @jamiethomas & @otiseyewear for more